Call for Public Comments: Draft Gender Strategy Note of the IRM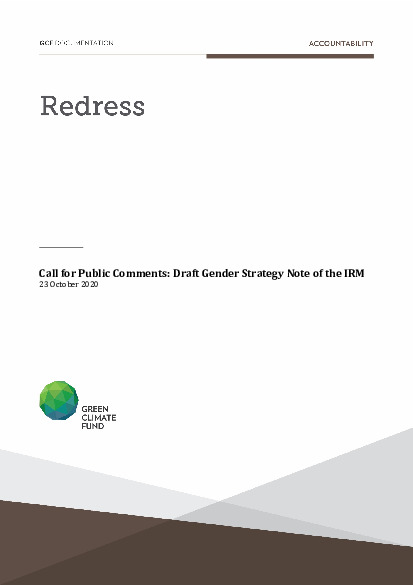 Download
English
|
PDF
|
485.94 KB
Call for Public Comments: Draft Gender Strategy Note of the IRM
The Independent Redress Mechanism (IRM) of the Green Climate Fund (GCF) has developed a draft gender strategy note, which outlines the IRM's commitments to a more gender-responsive approach in all its processes and operations.
It documents the background for producing the strategy note and specific strategies to make the IRM more accessible to all genders in terms of its five functions.
This call for public comments on the IRM's gender strategy note is part of ongoing efforts of the IRM to consult with stakeholders on its processes and procedures. Comments on this strategy note or any issue related to the IRM's work in relation to gender are called for. Any individual or organization may submit comments.
Cover date
23 October 2020
Table of contents
Context
Deadline
Comments
Disclaimer
Annex 1: The IRM's Gender Strategy Note