Climate redress in the Pacific: increasing visibility of the IRM
According to a publication on the Migration Data Portal, a data portal developed and managed by IOM's Global Migration Data Analysis Centre (GMDAC), climate change represents the most severe threat to Pacific Islanders' way of life. The GCF has invested in more than twenty projects and programmes in the region to address this threat. With an important number of GCF-funded projects and programmes in the region, on September 14, 2022, the IRM hosted a virtual outreach event on climate redress in the Pacific, co-hosted with the Pacific Islands Climate Action Network (PICAN) and the Independent Evaluation Unit (IEU) of the GCF. At PICAN's request, the IRM offered sign language interpretation to attendees. A first for IRM and a possible way forward to become more accessible to a broader audience.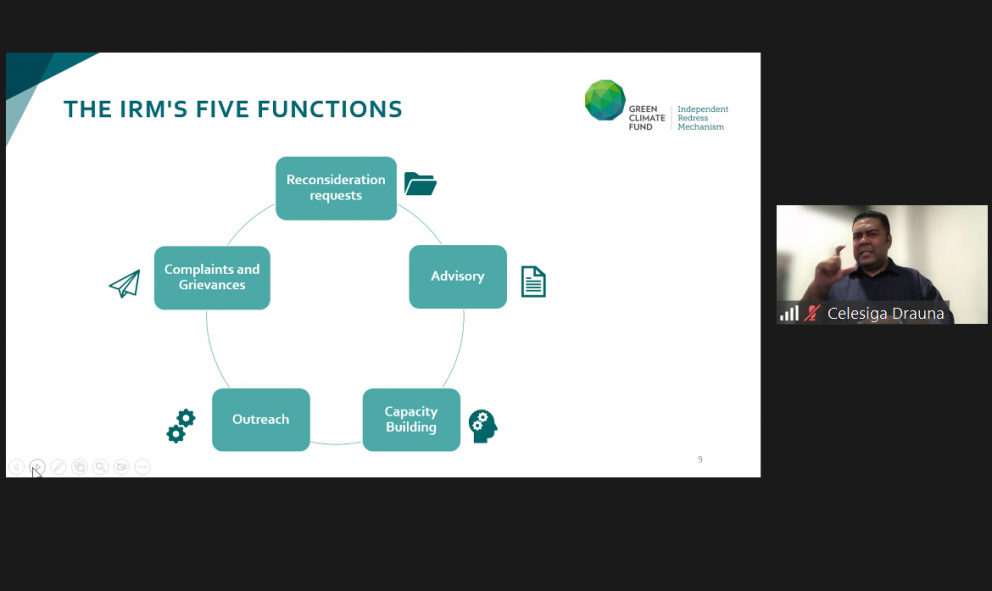 After welcoming remarks, Jeshua Hope, PICAN's Climate Policy Officer and Dylan Kava, PICAN's Communications Officer, shared a brief introduction of the work of PICAN and its advocacy for climate action. Galyna Uvarova, Data and GIS Officer of the GCF Independent Evaluation Unit (IEU), followed with a presentation on the Independent Evaluation of the Relevance and Effectiveness of GCF Investments in Small Island Developing States (SIDS). This presentation shared the key conclusions and recommendations from the IEU evaluation report on the GCF's investments' relevance and effectiveness in SIDS. The IRM then presented on a range of topics: the architecture of the GCF and the role of the IRM within it, outlining the IRM's mandate comprehensively, how to find project and programme information on the GCF website, and lastly, how individuals can reach out to the IRM if a GCF project has negatively impacted them.
Active participation was encouraged, offering various polls throughout the event and a Q&A session at the end to ensure that all participants could engage and clearly understand the content of the presentations.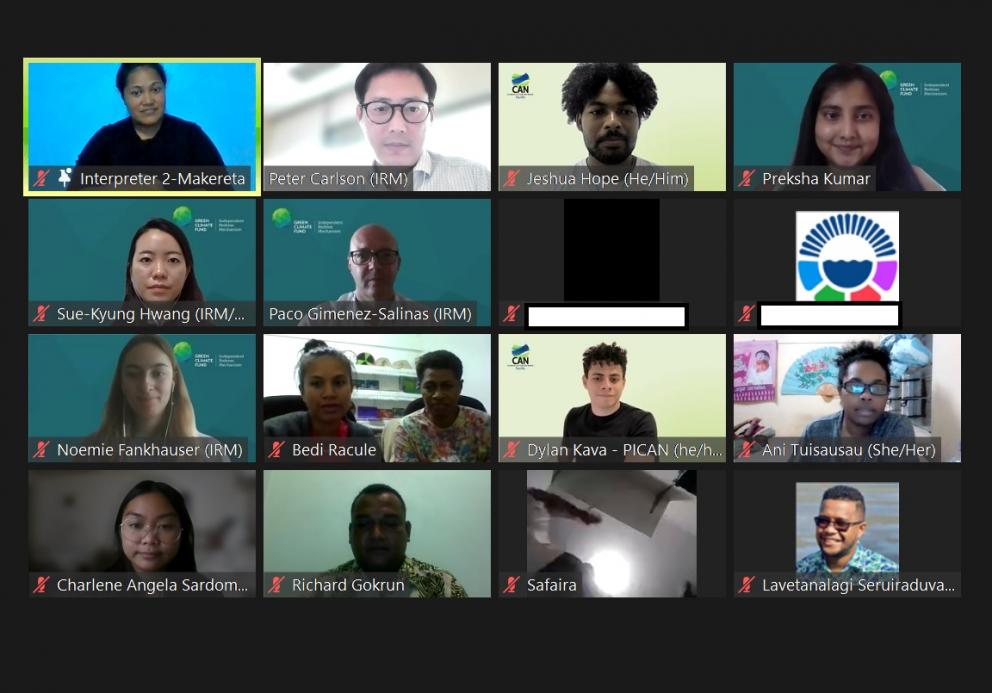 The participation of local CSOs in outreach events is essential, given the critical role that CSOs play in communicating directly with local communities. To ensure that those potentially affected by GCF-funded projects and programmes are aware of the IRM's role, each quarter, the IRM reaches out to various local partners to raise awareness of the IRM's core work and its ability to address grievances.
If you or your group is interested in setting up a meeting or a webinar regarding the role of the IRM, please reach out to us by email – irm@gcfund.org.