Defending Rights and Accessing Remedy: Learnings from Conversations with Civil Society based in West Africa
West African countries, in particular those in the Niger Basin, are some of the world's most vulnerable to climate change due to high exposure to extreme weather events such as droughts, high dependence on ecosystem services, and limited readiness. The Green Climate Fund (GCF) has approved USD 971.4 million in funding for mitigation and adaptation projects in the region, tackling issues from electrification to sustainable agriculture to access to climate information. Unfortunately, climate projects, if ill-designed, can lead to maladaptation including through the disruption of customary practices and the inequitable participation of local rights holders in project design and implementation.
Through active communication and outreach efforts, the Independent Redress Mechanism (IRM) works to ensure that local communities are aware of their rights to redress and aims to facilitate access to remedy, strengthening the accountability, performance and reputation of the Green Climate Fund.  In doing so, the IRM shares information on relevant topics such as its mandate and procedures and on how communities may access information on GCF projects through the GCF's own website and information disclosure policies. In light of the specific needs and possible barriers in accessing redress in the West Africa region, the IRM organized two outreach workshops for 120 civil society participants from fifteen West African countries, namely Mauritania, Mali, Senegal, the Gambia, Liberia, Sierra Leone, Guinea, Guinea-Bissau, Cote d'Ivoire, Ghana, Togo, Burkina Faso, Niger, and Nigeria. The two events were held on September 15 and October 6 in partnership with Oxfam and Natural Justice, the latter an environmental NGO supporting local communities in the region.
"We can integrate awareness of the Independent Redress Mechanism in our work to strengthen communities' knowledge about their rights and to give them the tools necessary to appropriately defend these rights and access remedy." – Sokhna Die, Program Manager, Natural Justice
Outreach workshops provide an opportunity for the exchange of information, to hear different perspectives and to learn about unique barriers to redress that are prevalent in a particular geographical context. Notwithstanding the diversity of political and socio-cultural landscapes across the West Africa region, the event revealed cross-country trends, including:
the need to make procedures and mandates of grievance redress mechanisms easily accessible
the lack or inefficiency of mandated organisations to address community grievances
barriers to information including poor internet penetration and lack of information sharing at the early stages of project readiness and design
In fact, access to information is a particularly acute barrier in West Africa. According to World Bank indicators, only 6% of people in West Africa had access to the internet in 2019, while only 42% had access to a mobile phone. Limited access to information and communication technologies restrains both information seeking on projects and the sharing of concerns about current or potential future adverse impacts. This barrier is compounded by a more systemic lack of administrative transparency in the region where few right to information laws are enacted.
In this context, civil society organizations are key in providing information and technical support to local communities to seek redress. A study published by Accountability Counsel in 2016 surveyed complaints at 12 international accountability mechanisms between 1994 and 2015. The study found that in Africa and the Middle East, the results rate for complaints supported by civil society organisations was 3 times higher than those filed without civil society involvement. While complaints filed with civil society reach better outcomes in other regions, the gap is significantly larger in Africa. Consequently, the IRM has invested much effort in maintaining strong relationships with local and regional civil society which act as bridges between local communities and the mechanism.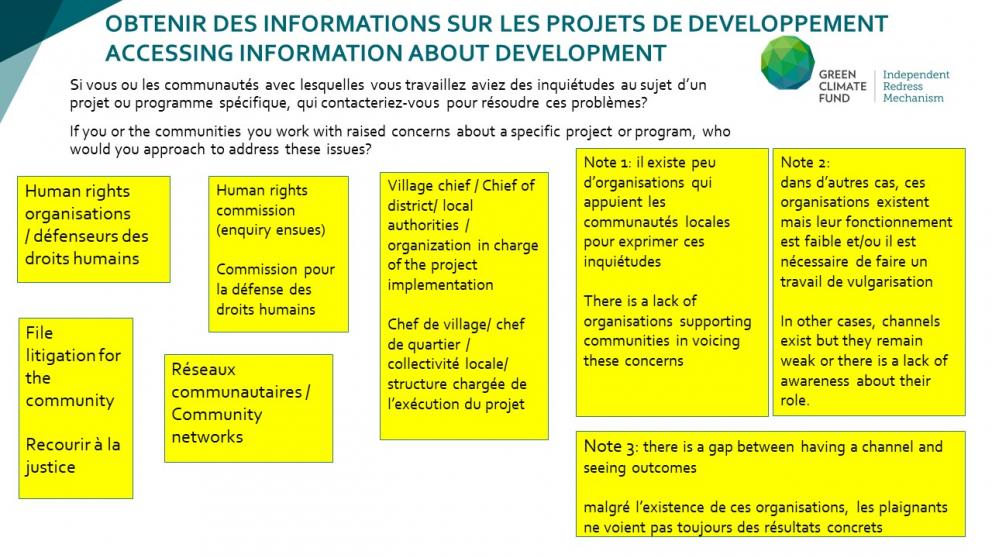 Highlights from the brainstorming session at the IRM's second West Africa outreach workshop
On a different note, participants in the outreach workshop stated that community networks and meetings provided forums to raise concerns about projects' impacts, potentially leading to public enquiries. They underlined the role of local institutions and traditional leadership such as village chiefs in escalating concerns and defending community interests. These local leaders remain significant for local governance and the provision of public services in rural West African contexts. Traditional institutions play a central role in rural and/or indigenous communities which are organized around informal community laws. Paying greater attention to local specificities, in particular local governance structures could reveal new arrays for outreach and trust building with rights holders.
While outreach workshops are valuable forums to raise awareness about the IRM, stakeholders don't need to wait for such an event to interact with us. If you want to know more, send us an email or message at irm@gcfund.org.
Article prepared by Safaa Loukili Idrissi.