Enhancing our knowledge on the design and administration of effective grievance mechanisms with the GRAM Community of Practice
In 2018, a lawsuit was brought against Gemfields, a gemstone company best known for its Fabergé jewelry brand, on behalf of a group of artisanal ruby miners and local villagers living near its Montepuez mine in Mozambique. The claimants alleged that the mine's security forces had committed serious human rights violations. The company ended up settling with the complainants. As part of the no-admission-of-liability settlement, it created an operational-level grievance mechanism for neighboring communities. The mechanism was created through a two year-long co-design process. Affected communities were consulted for the initial design of the mechanism and regular feedback was sought throughout the pilot testing period. To assure accountability of the mechanism, Gemfields also established an independent process for complex complaints involving an independent panel, a roster of experts, and an appeals panel.
The Gemfields case was one of the examples explored during our recent Grievance Redress and Accountability Mechanisms (GRAM) Partnership webinar on designing and administering effective grievance mechanisms. The webinar, hosted on 8 October by the Office of the United Nations High Commissioner for Human Rights (OHCHR), was attended by nearly 100 participants from grievance mechanisms, civil society organisations and research institutes.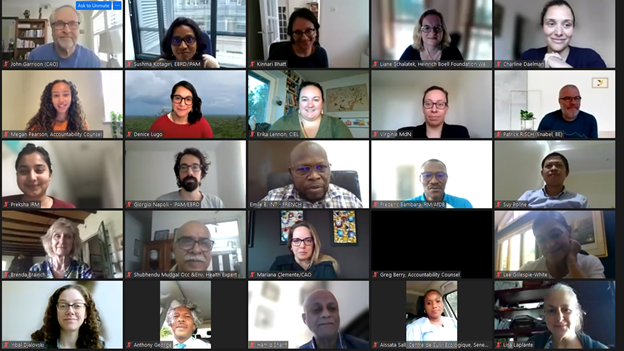 The United Nation's Guiding Principles on Business and Human Rights, are the first globally accepted standard for preventing and addressing the risk of adverse impacts on human rights linked to business activities. According to these principles, an effective non-judicial grievance mechanism should be:  
Legitimate
Accessible
Predictable
Equitable
Transparent
Rights-compatible
A source of continuous learning
And in the case of operational-level mechanisms, based on engagement and dialogue.
The GRAM webinar focused on legitimacy and rights-compatibility and struck the right balance between academic perspectives and practical considerations.
Jennifer Zerk, a lead legal expert for the Accountability and Remedy Project of the OHCHR, and Benjamin Shea, who leads the OHCHR Accountability and Remedy Project, shared the findings of a 2020 OHCHR report dedicated to identifying challenges, opportunities and best practices to enhance the effectiveness of non-state-based grievance mechanisms. Unsurprisingly, their research revealed that independence, accountability, stakeholder engagement, and an understanding of the day-to-day challenges of stakeholders and their local context were key to enhancing legitimacy and rights-compatibility. The webinar was a valuable opportunity to further discuss these findings with other experienced and new practitioners.
Anna Triponel, Business and Humans Rights Advisor at Triponel Consulting, and Alexandra Guaqueta, Global Practice Leader at Rio Tinto, shared practical advice, derived from concrete case studies and their experience operating and advising grievance mechanisms in the private sector. These presentations showed that there was no one-size-fit-all model for grievance mechanisms. Speakers reemphasized the importance of early engagement with stakeholders and of empowering complainants to make their own informed decisions. Discussing the tensions that can arise between being rights-compatible and culturally appropriate in the context of women's rights, Ms Guaqueta shared the following:  
From my experience, providing women with different options and support for these different options is what works best. Saying, for example - In our eyes, these are your rights, and we can help you with a remedy option that respects those rights. But if other solutions work better for you, given your local context, we can explore alternate solutions too.
Finally, David Simpson, Director of the Independent Review Mechanism of the African Development Bank, introduced a business management approach to designing effective grievance mechanisms.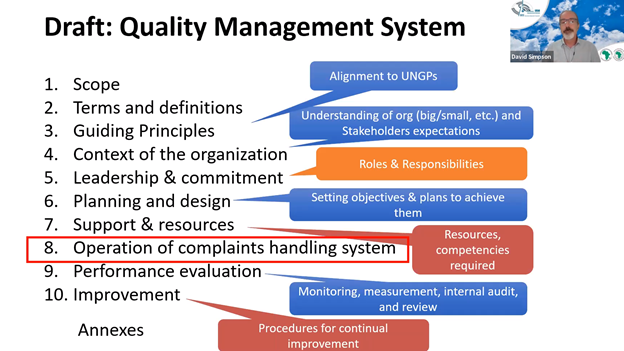 Slide from David Simpson's presentation explaining a concrete approach to designing effective grievance mechanisms.
Presentations were followed by valuable group discussions, including on the linkage between due diligence and operational grievance mechanisms, risk minimization for complainants, and finding new ways to engage stakeholders in the context of COVID-19 restrictions. 
Similarly to our two previous events, this GRAM partnership webinar served its function as a peer learning platform. Our next webinar will be hosted on 8 December 2021 by the Social and Environmental Compliance Unit of the UN Development Programme. It will address the relationship between grievance mechanisms and their parent organisations and how best to manage this challenging relationship. We are looking forward to this upcoming learning opportunity.