Increasing IRM's reach in South Asia
On 26 July 2022, the Independent Redress Mechanism (IRM) organised a virtual outreach webinar with the Centre of Environmental Justice (CEJ) in Sri Lanka and the Legal Initiative for Forest and Environment (LIFE) in India to discuss the IRM's mission and values with over sixty civil society representatives in South Asia.
Welcoming remarks were shared by the two founders of each partner organisation - Mr. Hermantha Withanage, the Founder and Senior Advisor of CEJ and Dr. Ritwick Dutta, Founder and Managing Trustee of LIFE.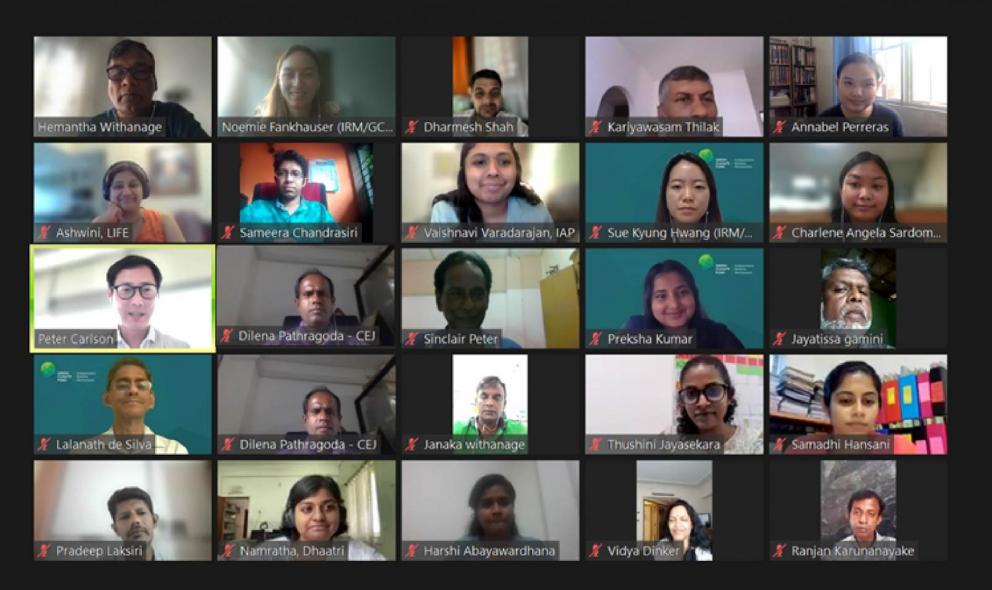 The webinar started with an explanation of the IRM's role and how it's situated within the Green Climate Fund. Participants then learned where to find information on GCF projects and programmes on the GCF website. They also learned about the who, what, when, where, why, and how complaints about GCF projects can be filed.
To increase accessibility for local communities, the online event featured Tamil and Sinhalese interpretation. This feature further opened the floor, engaging the participants to openly share their own professional experiences in their countries and ask questions about the IRM's directives, scope of work, and relationship to the GCF Secretariat. The webinar also featured videos, images, and polls to help ensure effective engagement and participation.
As the webinar progressed, interest grew on grievance redress and accountability mechanisms (GRAM) as an industry and on available frameworks and policies that could protect communities to prevent possible aggravation by internationally funded projects. Currently, the Green Climate Fund (GCF) has six projects in India (523.8m USD) and four projects in Sri Lanka (101.4m USD).
The role of civil society organisations (CSOs) in aiding the communication between potential project affected people, the IRM, and other accountability mechanisms has proven instrumental over the years. The event strengthened this relationship to allow for continued synergies.
The IRM is committed to its mandate in providing a safe avenue for project complaints. Every quarter, the IRM reaches out to different partners to raise awareness of the IRM's core work and ability to address grievances.
If you or your group is interested in setting up a meeting or a webinar regarding the role of the IRM, please reach out to us by email – irm@gcfund.org.