COVID-19: Ongoing lessons from the virtual Independent Redress Mechanism
Forced to go virtual
Almost overnight, the six team members of the Independent Redress Mechanism (IRM) of the Green Climate Fund (GCF) relocated from Songdo, South Korea where the GCF has its headquarters, to their hometowns in Spain, South Africa, Austria, Ulsan in South Korea and the USA. This was a result of the GCF asking its non-essential staff to work remotely from home (either in Korea or from their home countries) due to the sharp rise in Covid-19 cases in South Korea. Suddenly, the IRM team was forced to work remotely and "virtually" to keep the IRM open for business.
Here we speak of the opportunities and challenges that a virtual IRM has presented and how the IRM team has reacted. As the Covid-19 pandemic spreads across the world, other accountability and redress mechanisms will face similar situations. We hope this commentary might provide some ongoing lessons and insights into what to prepare for and how to cope. Perhaps, once the IRM team re-groups in Korea, we might write an update so our readers will have a more complete picture of our experiences.
Meeting virtually
Over the last three weeks, we have come to learn some important lessons on efficiently running a virtual IRM. We started by meeting for an hour daily at a time that was convenient for most, but not for all. Being spread across the world from the Americas to the Far East, fitting in a convenient time for all was a challenge. The daily calls started off as being reports on the previous day's work. However, GCF rules require staff to compile a weekly written report of remote work for their managers. Reporting daily and weekly became too onerous and so we have converted the daily call to a team-wide problem-solving one. Any member of the team could raise an issue that requires team-wide consultation and problem-solving. This change has considerably improved the morale as well as the usefulness of the daily virtual call. The daily virtual call also helps team members to see and hear each other daily and to remain connected and feel like a team.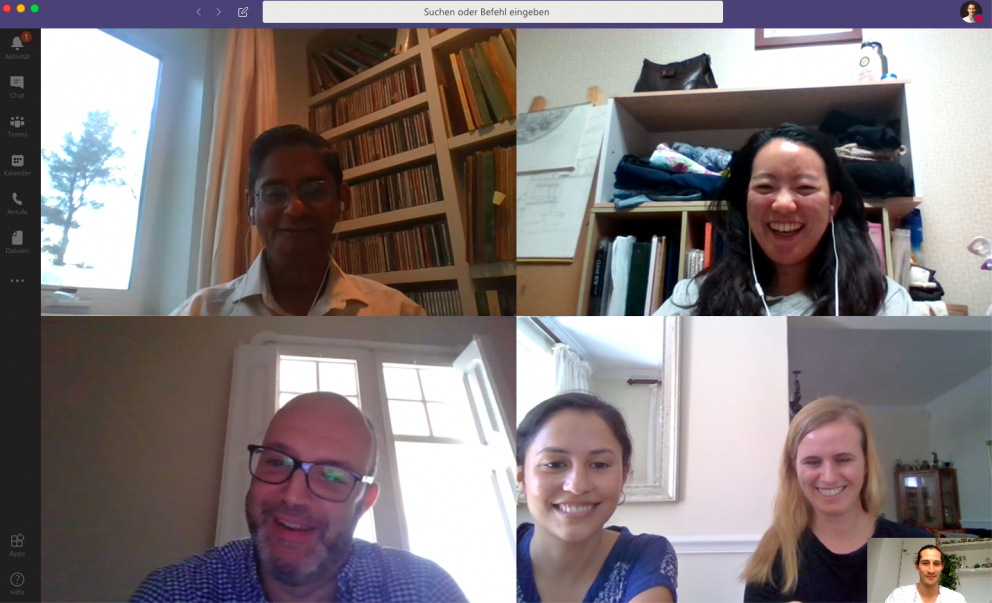 Making the best
Team members also find that working from home gives them more flexibility to arrange their work time. They can split the work time into two or three time bands and intersperse it with recreation or family time. Working alone remotely is proving stressful for some team members, but being with family has, for most of the team, been a boon at a time of stress. The GCF has offered and encouraged staff to use a free counselling service if they feel depressed or stressed. Additionally, team members speak with the Head of the IRM and with each other on one-on-one virtual video conference calls to get the work done and reduce stress from working alone. A WhatsApp group has also allowed the team to speak together or individually with each other. Similarly, team members in South Africa have been able to connect virtually with civil society organizations in that country as part of IRM outreach. Being present in their home countries has also allowed some team members to meet in person or virtually with other professionals in the field and expand the network better than from Korea. For example, several accountability and redress mechanisms of GCF's Accredited Entities are in and around Washington DC and the Head of the IRM has been able to meet with staff from these mechanisms on common and collaborative matters.
Team relocation options
One option the team considered early on was to move to a common location that was free of the COVID-19 virus, rent an apartment and live and work from there. However, this idea was abandoned because living together for a long time may have thrown up personal issues that were unpredictable and would have put the team in a strange country, with folks speaking a foreign language, with no family support and no familiarity with the health care system. Besides, there was no guarantee that the virus would not spread to that country as well. It seemed the costs outweighed the benefits of such a move. Two team members are based in South Africa as they had their homes there. This turned out to be a fortuitous situation in that both were able to meet up regularly and work together on IRM matters. Two other team members recently met up in Austria so that they could even briefly, work together. The early lesson from these experiences is that rather than moving the team to one location, finding two or three locations to which the team members can move and live nearby might be a solution that could relieve stress and make virtual work even more efficient.
Challenges
Several challenges have presented themselves as a result of virtual working arrangements. Remote work loneliness and stress is one. When team members moved back to their home countries, they had to lodge with their parents or siblings, since they had closed up their own homes to relocate to and work in Songdo, Korea. While this provided family support, it also meant they lost their own space back in Korea with all the amenities they had put together. Issues relating to laptops and software cropped up and these have been solved remotely by GCF colleagues working on ICT issues. Some countries where team members were located have connectivity issues as well as electricity load shedding, resulting in power-cuts for several hours a day. Being in several time-zones also has meant that the window of opportunity for virtual team meetings is limited. Team members have had to arrange for payment of rents and other financial obligations undertaken back in Korea and handling these remotely has been challenging because online banking services in Korea can be complicated if one does not speak Korean. The ability to go to the bank and process such transactions face-to-face is no longer available after relocation to their hometowns. Remote participation also has the draw-back that staff are not able to solve issues quickly by simply walking across to another GCF colleague's desk in the same building. Additionally, some team members are observing that the loss of face-to-face communication and the absence of informal meetings over lunch has negative impacts on collegial relations.
Virtual operations
Despite these challenges, the IRM is operating virtually almost seamlessly. We are processing a complaint we received. We attended a GCF Board meeting making a video presentation virtually. The IRM successfully handled last minute cancellations and postponements of a major capacity building event it was organizing and an outreach workshop it had planned. Picking ourselves up, the team is re-organizing our capacity building and outreach activities. We continue to service our Advisory function and have conducted public consultations on our draft retaliation procedure through webinars. We are working on developing online learning modules for training the grievance redress mechanisms of the Direct Access Entities of the GCF. Team members are participating remotely in the GCF's Crisis Management Committee. Essential staff of the GCF stationed in Korea have responded promptly online to crisis management requiring bank transfers of funds and completion of procurement procedures. The increased use of technology is allowing the IRM Team to reduce its carbon footprint through reduced travel to events and reduced energy consumption.
Systems that work
Another key early lesson from this experience has been the advantage of having clear Terms of Reference and detailed procedures together with systems that work remotely; this has helped make the transition to virtual functioning much easier and smoother. The IRM now enjoys a clear updated Terms of Reference, and a detailed set of Procedures and Guidelines. Additionally, the IRM also has a twenty-module set of Supporting Operating Procedures, an internal facing document that gives the IRM's staff clear, step-by-step guidance on all the five functions of the IRM. The IRM also has supporting online systems. For example, our complaints are managed through an electronic case management system (CMS) that is accessible to staff and Accredited Entities remotely. All GCF's operations such as HR and benefits management, procurement, expense accounting and salary payments, are handled online, including website backend interventions and file storage, all of which can be worked remotely from the IRM staff members GCF laptop. Special online security has been put in place by the GCF's ICT department, though remote working arrangements may require enhanced security measures. GCF's ICT department headed by Stefan Zutt has done, and continues to do, an incredible job supporting and moving the institution in the right direction. Thankfully, the IRM's and GCF's online systems are a huge help in moving from Songdo, South Korea to functioning virtually from multiple locations, and is proving the resilience of the IRM of the GCF and also its adaptability.
Sustainability
The IRM team has been functioning together from one location before the COVID-19 crisis, and as such was an operational team at the time of the outbreak. This factor might have enabled it to adapt faster and better to virtual operations. The virtual experience has so far been largely positive with some challenges. But the jury is still out on whether virtual operations are sustainable or desirable long-term. For example, long-term virtual operations will require allowing staff to relocate semi-permanently or permanently to their home countries. In turn, this will raise issues of how the GCF's privileges and immunities will operate if staff were in multiple locations. Virtual supervision and oversight of staff present challenges as well. What this forced experiment of the virtual IRM has so far proved is that (a) the IRM can operate virtually from anywhere in the world with decent connectivity and continue its business operations unhindered for short periods of time and (b) the IRM can function effectively and virtually with the mandate, procedures and online systems it has in place currently. The IRM's virtual functioning may be improved if a core group of its staff are in Korea while a few team members are located elsewhere.
Conclusion
In conclusion, there may be a silver lining to the COVID-19 cloud. The GCF, and indeed the IRM, has now been tested for its resilience and its ability to operate virtually in a crisis. Many lessons have been learned as an institution and these will hold the GCF and the IRM in good stead in the event of future crises. The COVID-19 pandemic is far from over, but at least in South Korea, one can be cautiously optimistic for an earlier resolution because of wise and aggressive proactive steps taken by the Government.
Article prepared by Lalanath de Silva