A virtual gathering of Grievance Redress and Accountability practitioners
Many private, public and civil society sector organisations are establishing grievance redress mechanisms (GRMs) to address complaints from customers and people affected by their activities. But the fact that an organisation has a GRM does not necessarily mean that complainants or affected people will receive a remedy or have their problems solved. At the recent soft launch of the Grievance Redress and Accountability Mechanism (GRAM) community of practice, one participant commented that an "(e)ffective grievance mechanism may not result in effective remedies – that is not a given thing." It indicates that unless a GRM can effectively address and deliver remedies and solutions to complaints and problems, the goal of establishing them will fail.
 
For a deeper discussion on what this "effectiveness" entails, a community of GRAMs came together to exchange experiences and ideas on 1 December 2020.[1] In total, 104 people joined the event from many countries across the world. There were GRAMs of different types of organisations ranging from international to local and public to private. Civil society organisations (CSOs), academics and other individuals interested in the issue of grievance redress and accountability also joined to learn from and contribute to this community of practice. For non-English speaking participants, Spanish and French interpretations were provided.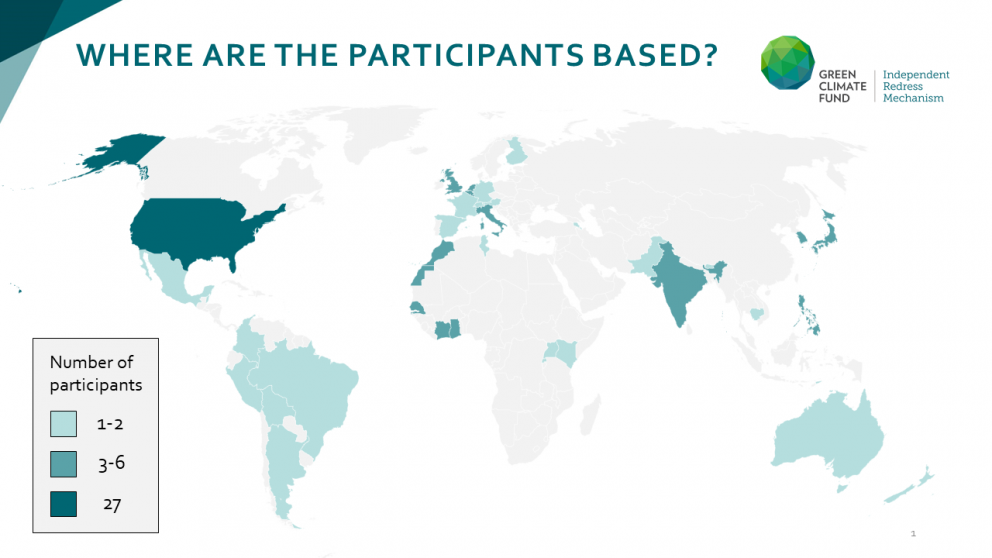 The event was a short 2 hour session with 13 speakers in total, but the chatbox was very vibrant with many questions and comments. Many showed interest in the GRAMs of the private sector and CSOs. Also, the idea of a joint mechanism offered new insights to many participants as it is one of the practical solutions for smaller organisations with fewer resources. Discussions on gender and on retaliation sparked interest as well. In fact, some participants actively utilised the chat function and decided to meet separately to discuss specific matters.

Towards the end of the event, participants were asked to choose the biggest challenge of operating their GRMs. The answer choices provided were the eight effectiveness criteria for non-judicial grievance mechanisms, first introduced by the Office of the United Nations High Commissioner for Human Rights (OHCHR)'s Guiding Principles on Business and Human Rights. Interestingly, participant responses were very diverse. Legitimacy, accessibility, predictability, equitability, rights-compatibility, and engagement and dialogue were almost equally challenging for the participants. This again emphasised the value of the GRAM Partnership, where participants can hear the difficulties that they have in common and learn from each other.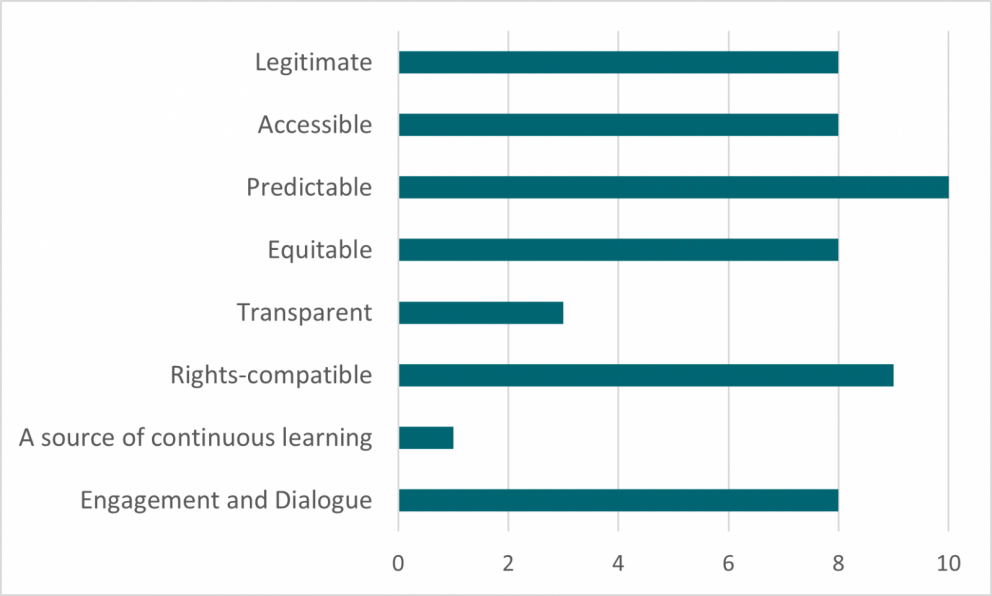 They were also asked to share their ideas and hopes for the GRAM community of practice in 2021. Many saw value in sharing innovative ideas, practice notes, networking opportunities and webinars. To respond to these demands, the GRAM partners (GCF IRM, the Black Sea Trade and Development Bank's Internal Audit Office, the United Nations Development Programme's Social and Environmental Compliance Unit, the Office of the United Nations High Commissioner for Human Rights, Accountability Counsel and Amfori) will meet in early 2021 to design a work programme that will contribute to establishing a more robust and sustainable community of practice in the coming years.

This event was very meaningful as it offered a larger platform where grievance redress and accountability practitioners from diverse regions and sectors could come together to learn about the various scopes and mandates of different GRAMs but also share common values, goals and challenges. The GRAM partners will continue to build on this soft launch of the GRAM community of practice and strive to foster a stronger community where all GRMs, regardless of sector, teach and learn from each other to better deal with complaints and grievances. Please do get in touch with us if you have any suggestions for the GRAM Partnership to strengthen its community of accountability practitioners!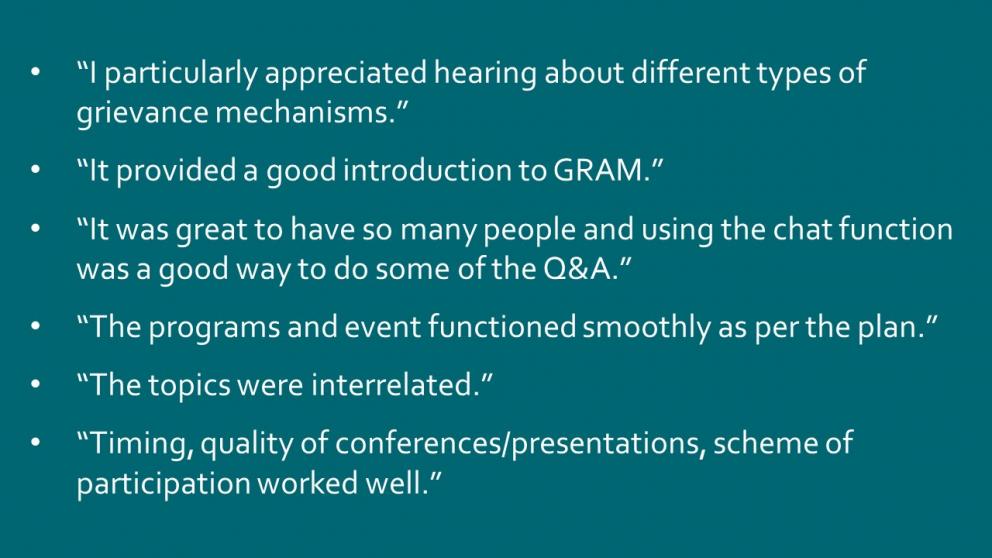 [1] A more detailed background of the GRAM community of practice is available in the IRM's previous blog.